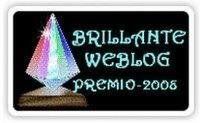 Not just one but two. And from my favorite bloggers too. Kiran and Itchy just floored me with this. Compared to their insightful and funny posts, I write pretty mundane stuff. I am ecstatic that some one apart from the trusy ol'BigGeek here thinks I am brilliant and don't just... you know.
This award is for blogs whose content and design are brilliant as well as creative.The purpose of the prize is to promote as many blogs as possible in the blogosphere.
Here are the rules to follow:
1. When you receive the prize you must write a post showing it, together with the name of who has given it to you, and link them back
2. Choose a minimum of 7 blogs (or even more) that you find brilliant in their content or design.
3. Show their names and links and leave them a comment informing they were prized with 'Brilliant Weblog'
4. Show a picture of those who awarded you and those you give the prize (optional).
5. And then we pass it on!"
And the seven brilliant weblogs I award are:
Boo's Baby Talk : If only I could write like her. She has a refreshing point of view. And always manages to see things in a lighter vein. Soo, Boo, this is for you.
CeeKay: She is a bold lioness. Never afraid to speak her mind. Sensible parenting advice to boot.
Suki: She is a teenager, but she writes with such maturity. Never fails to impress this "behenji" : - )
Moppet Tales : Funny and insightful. I love reading adventures of Moppet and the newly minted Munch.
Dipali: She is a virtual mommy. I particularly enjoy her "blast from the past" posts.
Rayshma : Reading her posts always put me in a positive frame of mind. With her blog, sunshine is just a click away.
Noon: there is something about noon's posts that is very, very honest. No pretenses here. Always look forward to reading her blog.

Edited to add: birds-eye-view has honored me with this award too. Thanks, BEV.

Another update: PG has floored me with this too. I love her anecdotal posts about her son!